On-Site Service
On-Site Service for Heavy Equipment Repair may be your only option at times. Some machines are nearly impossible to get out of the field or off the job site. Emergencies happen when something needs done here and now, and waiting around for a convenient solution is not possible.
This is where MPE Equipment Services can help. With an expanding fleet of fully loaded service trucks; with a growing staff of certified mechanics, welders and fabricators; and with always updated communications and software…we're ready for anything anywhere.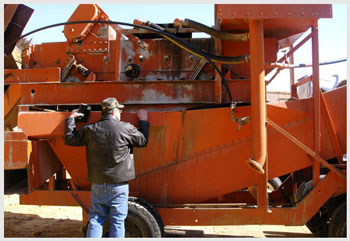 This is where having two locations – one in Iowa, one in Missouri – helps us save you time and expense. We'll do whatever it takes to be there and to get in and out as quickly as possible.
Or perhaps you need someone to simply stick around. Perhaps – like many of our customers – you have a big project involving dozens of trucks, excavators, dozers, skid-steers and the like. And because things fail at the least convenient time, and because you're stretched thin for qualified mechanics, you know an extra hand on deck for a week or more is what's required. At least until things calm down, or the routine is established, or the job is done. MPE Equipment Services can help here too.
So give us a call.
Get It Done Right.