Heavy Equipment Service
MPE Equipment Services has a full staff of in-shop and on-the-road personnel ready to take on the most challenging jobs. In-house instruction seminars, off-site service training, and decades of combined work experience ensure that MPE Equipment Services fields what many believe to be the best repair and service teams in the Midwest.
If you need on-site inspection, we'll provide it. If you have problems in the field and are searching for advice, try us. And if your machines require immediate repair, we can get there.
Equipment Repair, Remanufacturing, and Restoration
Cranes
From rebuilding the undercarriage for a 600 ton, CC 2800 Terex lift crane to overhauling the upper deck of an LS 108 Link-Belt dragline… read more
Excavators
From replacing the jaw-dies on a Cedar Rapids rock crusher to fabricating a grapple thumb for a Cat 325 excavator… read more
Heavy Haul Trailers
From refurbishing a three-deck, twin screw Universal wash plant to restoring a self-propelled, super-heavy-hauler Goldhofer trailer…
From remanufacturing German-made Komptech trommel screens to building, from scratch, custom-made flatbed trailers for the sake of accommodating thirty-ton horizontal grinders… read more
Dozers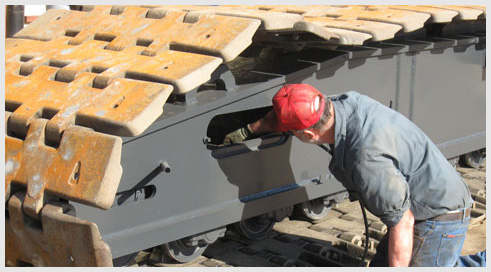 And from restoring older Cat D7 dozers to refurbishing newer John Deere front-end loaders and heavily damaged Kolman conveyors… read more
Skid Loaders and Backhoes
Whether dealing with Case, or Caterpillar, Bobcat, Deere, JCB or any other make or model, MPE Equipment Services has the personnel and replacement parts needed to repair you machine and get you back to work ASAP... read more